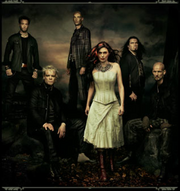 Formed in 1996 around the nucleus of guitarist Robert Westerholt and vocalist Sharon den Adel, [Within Temptation] released their debut album Enter through Dutch indie label DSFA the following April. The album saw the band playing gigs across the continent, firmly cementing their phenomenal live reputation – most notably two appearances at the legendary Dynamo festival (in both 1997 and then on the main stage in 1998).
In the end of 2005 Within Temptation started a corporation with game developer 'The Chronicles of Spellborn'. This is the first time in history a rock band and the developers of a Massively Multiplayer Online Role-Playing Game have announced such collaboration, marking a new era in the fusion of the arts of music and making games.
"The Chronicles of Spellborn" is a MMORPG, players from all over the world will be able to interact through the internet with each other in an original fantasy setting, experienced through a unique graphic style.
Robert Westerholt comments:"Since there are quite a few game fanatics in our band we didn't hesitate long when we were given the opportunity to work together with a game-developer on the music for a videogame. Especially since a game like 'The Chronicles of Spellborn' is graphically, as well as story-wise, very inspiring."
The band wrote three songs for the game. For one of these songs the online game trailer 'The Howling' was released in December 2006. This video features WT's singer Sharon den Adel placed in exclusive material of the game. The trailer was exclusively distributed online and can be watched through: [The Howling]
More unique corporations can soon be expected.
---
In addition to Within Temptation's contributions to the music of The Chronicles of Spellborn, Jesper Kyd also created music specifically for the game.
The Hague, The Netherlands – April 6th, 2006 – Spellborn International NV. announces that Jesper Kyd, the internationally acclaimed composer whose video game credits include Freedom Fighters and the Hitman series, has created the original music score for the massive multiplayer online role-playing game (MMORPG), The Chronicles of Spellborn. Kyd's score for Spellborn is an inspired blend of organic and ethereal musical landscapes embroidered with theatrical orchestrations that provide an emotional connection for the player and fully immerses them in the post-apocalyptic dark fantasy world of Spellborn.
Since the art and environments designed for The Chronicles of Spellborn have been developed with such involving attention to detail, the producers of Spellborn did not want a generic fantasy score and felt a purely orchestral pallet would not reflect the true nature of Spellborn. Their vision demanded they seek out a more unique, multi-layered, vanguard style.
"We knew a mix of diverse musical textures would better serve our game than simply using an orchestra, so we approached Jesper Kyd who is renowned for his versatility as well as producing scores that go beyond the traditional mould," explains Matthew Florianz, Sound Designer for The Chronicles of Spellborn." Jesper has fashioned the kind of grandeur usually associated with the cinematic sound of an orchestra, though he only used analogue sounds and solo instruments, and delivers a deeply emotional impact with a minimum of bombast. His elaborate, cerebral and intuitive treatment was exactly what we were looking for."
Barry Hoffman, Spellborn International NV.'s Marketing Manager added, "Jesper Kyd is a composer with the rare combination of having a recognizable personal style, a good feel for what speaks to a mass audience and the ability to translate mood and emotion into music. Just as he has done in the action and stealth genres before, Jesper Kyd brings extraordinary creativity that will not only captivate Spellborn players but will also appeal to a broader spectrum of music lovers and soundtrack fans."
About Jesper Kyd Jesper Kyd's dedication to create scores that transcend traditional repertoires has gained him international critical acclaim and numerous accolades from the arts and entertainment industry. Kyd's hybrid electronic and live choral score for Freedom Fighters earned him the GameSpot award for "Best Original Music in a Game" and nomination for "Best Use of Sound in a Game" at the Billboard Digital Entertainment Awards. His fusion of minimalist electronica and dark orchestral and choral grooves featured in Hitman: Contracts was awarded best "Original Music" by the British Academy of Film and Television Arts at the 2005 BAFTA Games Awards. Hitman: Contracts also won the 2005 Game Audio Network Guild award for "Best Cinematic Audio." Information from Jesper Kyd press release
Samples of in-game music by Jesper Kyd can be found here.
Community content is available under
CC-BY-SA
unless otherwise noted.